I love the 1920's and Art Deco Fashion.

I collect fabrics!
Hello,
Today's post is a small collection of some of my 1920's fabrics and pieces.
I'm a hoarder, a collector, as I would call myself. I love old treasures from the past. I collect from different eras but today I' ll share with you some of my 1920's shawls, fabrics and other bits.
I took the opportunity to shoot some items together with this great book called 'Art Deco Fashion', which is so inspirational!
It has pictures from Paul Poiret, Lavin, Vionnet and Chanel to name a few, there is also some hair and make up pictures and some essential information about the 20's fashion in general.
Last week on the Portobello Market, I found this amazing hand stitched glass embroidery piece, on the right hand side, for £2! Which I'll transform into a gorgeous bib necklace :)
I buy these items because they are just beautiful to look at. The intention is to transform them into something in the future...
Falling to pieces... an amazing black glass beaded piece with an exquisite collar made of diamante and clear glass beads. Behind it, a gorgeous two toned pink sequined flapper dress with leaves detail on it.
It's beautiful, it's romantic, it's totally couture!
My most treasured possession is this green flapper dress... Attention must be paid on the detailing of the pearls, sequins, glass beads and diamante, all hand stitched. It's a real work of art.
Another passion of mine are those mini flapper handbags. The one on the right hand side is one of a kind, made of a fine net with diamantes attached on it and a beautiful clasp. It's one of my recent acquisitions and it's so glam!
I am also hooked on shawls... I have three, all original from the 1920's and in good condition. My tip, is to hang them over the furniture for a boudoir shabby chic look which I totally adore.
The 1920's was all about detail and metallic fabrics. I love them and appreciate how beautiful they are. I have just managed to collect a few pieces, as they are so hard to find and expensive buy.
The dress on the picture is a classic example of how a classic cut goes a long way, with an avant-garde metallic patchwork detail on, it was made in 1925 and yet is so up to date.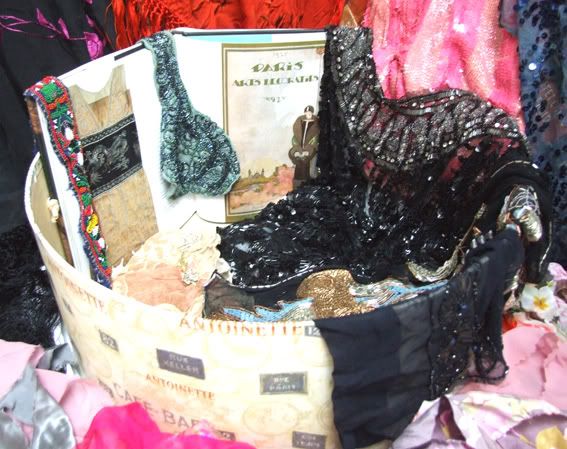 Pandora's Box!
I could easily have been born as a flapper... as I would love to dress myself with so opulent and amazing fabrics!
In future, I'll show some of my huge victorian lace and beading collection... Maybe you can help me, giving me ideas of what do do with it.
See you soon.
x