Hello everyone,
First of all I want to give a warm welcome to the new followers! I am so happy and really flattered with your lovely comments. Thank you all so much!
Today's outfit was about playing with a slightly masculine look, I love being girly but some days I love showing my masculine side too. LOL.
Anyways, I just love my flat caps and this one is a favourite of mine. I bought it at Topshop many years ago and it was my first. Ohhhh, it's just so cute with pale pink polka dots on... It completely made me fall in love with the whole Mary Poppins chimney sweeper look.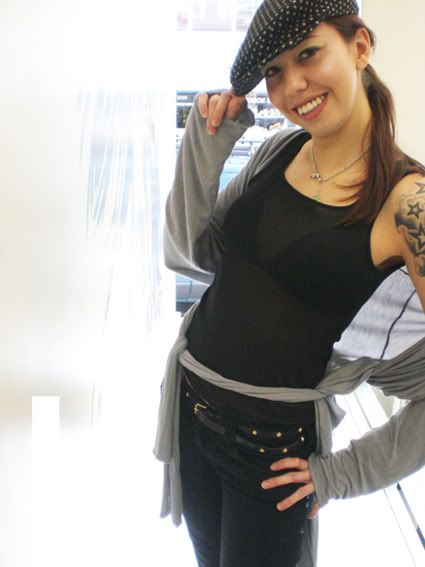 I wanted to keep it looking a bit girly too, so I am wearing a mesh vest which is quite sheer, it's actually underwear from Valisere back home in Brazil (one of the best in the world in my opinion) but it doesn't matter too much because my bra looks like a bikini.
Teamed up with some little heels.
Keeping it simple today, that was the idea.
Flat cap: Topshop, Top & bra: Valisere, Cardigan: Portobello Market, Jeans: River Island, Shoes: Melissa Vivienne Westwood.