Hi guys,
I hope you all have been well. Today's outfit post is also a new buy, which I could not resist!
Well, it all started a couple of weeks ago, when I passed by Topshop and started browsing through the sales racks. I saw some of these aviator sheepskin jackets but I was not on spending mood that day, so I didn't really look for one in my size to try it on. A couple of days later, I found a gift card for Topshop with full credit on it and like magic, the spending mood truly came back to me. I desperately needed of one these jackets as soon as possible!
They had it in 2 different finishes, one was black suede and the other was grey leather and the latter was the one I wanted! The question was would they have it in my size with the end of sales going at full swing?
That night, I checked on the website and they had it but I wasn't sure if the size was gonna be right and if I could add my voucher as part of the payment, so I waited until the next day and checked on the website again. Unfortunately the grey ones had already sold out, luckily
I was
near Topshop and managed to go there pretty early in the day. I managed to find
one
in my size and happily bought it.
The timing has been perfect, as it is getting very cold and it is freezing in London. I can't get enough of it and I have worn it for many days in a row. Today, I went for a strong aviator look with some pieces borrowed from my boyfriend's wardrobe too. (cozy)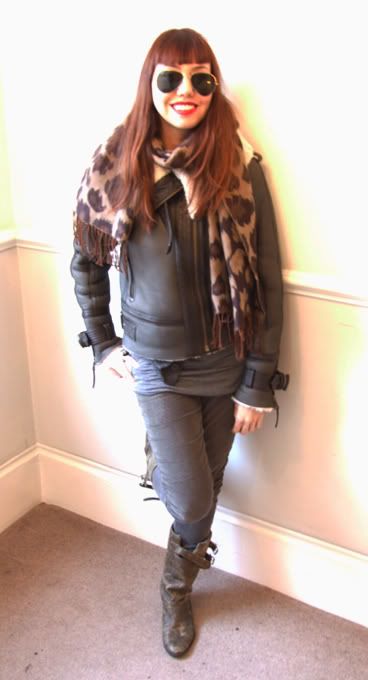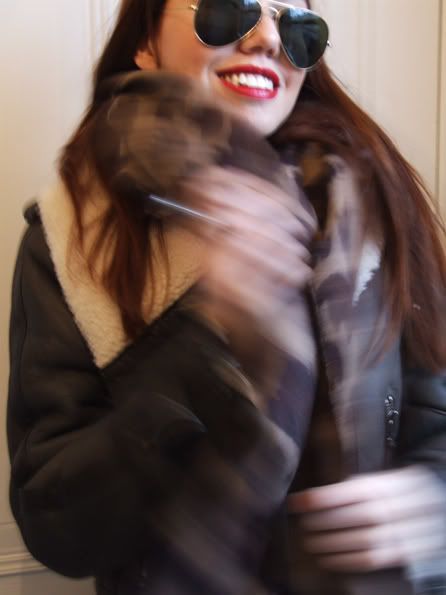 I was wearing: Jacket and Scarf : Topshop, Cardigan: from my boyfriend, Cords: Cheap Monday, Boots: second hand, Sunglasses: Ray-ban.
See you soon.
x